Sorbetto Top
I've been cruising through sewing blogs the last few days because I just am having trouble getting into my projects. Having gained a little and having done some shape shifting, I'm hesitant on starting something that may not fit. Apparently, I'm not alone.
My decision while I am waiting for my weight to decide what it's plan is, I will sew for my boys and some quick things for myself that does not need much fitting.
I sewed the
Kirsten Kimono Tee
from Maria Denmark. I have a couple more fabrics that I would like to try. I also have the
Sammy Cami
from
The Sewing Space
, the
Sorbetto Top
from
Colette Patterns
to try. These are all free downloadable patterns. I like that these are sleeveless and except for the Sorbetto, they are knit.
I might use these to lighten my fabric stash a bit.
While visiting
The Sewing Space
, I took a look at the
Jess Jean
. This is not the typical jean. It has an exposed front button fly, welt front pocket and a contoured waistband. There are no pockets in the back. Of course, I'm not taking on a jean right now.
The Sammy Cami can be made in a variety of knit fabrics--just make sure it has lycra! I actually want to make one to wear under my
Marfy 1913
. I thought about wearing it the other day and realized that it is a little too sheer for my comfort level. I already have some beige power net and some elastic lace. I'm thinking this may be my homemade spanx camisole. I also want some other colors to wear under a couple other shirts.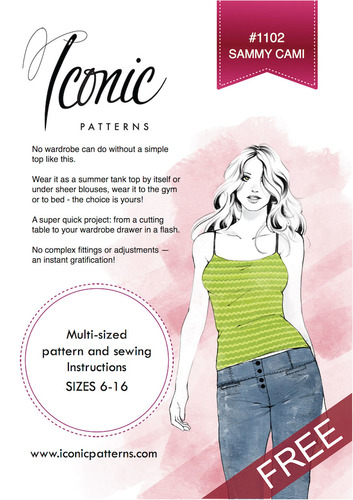 Sammy Cami
The Sorbetto is another two piece pattern and it has a pleat/tuck down the front. My mind is just spinning at the possibilities for this. I can see buttons, lace, ribbons, embroidery.... It's also nice because there are no facings. The neckline and armholes are finished using bias tape.
The Sorbetto reminds me of a blouse that I had about 15 years ago. It was fushia. It had the front fold/pleat/tuck, but it had more of a kimono cap sleeve, had a highter neckline and a little collar. The collar was similar to a Peter Pan collar, but instead of being round on the front, it was pointed. It buttoned in the back. It was such a simple blouse and I could throw it in the washer, hang it up and it was ready to go!
I guess I wouldn't call what I'm going through a sewing funk, but more frustration. I have tons of items that I need because of the ready to wear fast, but don't want to sew until I know how I will be shaped.
Luckily, my boys will be getting Easter outfits to help me get through this.